Architectural Design For Hypers New Media Office
Location:
Maçka - İstanbul / Türkiye

Size:
500 sqm.
Status: 
Built / 2021
Assistant Architects: 
Burçe Gökhun, Umut Müezzinoğlu
Construction Team:
Emre Gürsoy, Cem Tuncay [Do Tasarım]
Photo Credits:
Özgür Ergül
Project Description
The design idea emerged in the last quarter of 2020, during a global pandemic crisis that radically changed our daily lives and our relationships with our homes and workspaces. The beginning of the design concept came about when the company Hypers, which deals with new media, commissioned our team to create a project consisting of workspaces and meeting places.
During the pandemic, the work-from-home routine transformed employees' homes into multifunctional office spaces using technology. Social and work-related activities were consolidated on a single screen. The project referred to here coincided with a time when we all adopted this lifestyle model, whether willingly or not. In a period when the traditional definitions of office and home spaces were changing so drastically, we decided that the concept of the "office return" blurred the conceptual boundaries of the workspace, paving the way for the development of a hybrid new type of space. We rolled up our sleeves, anticipating that a project produced using this approach would necessarily be experimental, would tolerate the possibility of making mistakes, and would allow us to explore new horizons.
The office space we constructed here took shape through a spatial search for meaning that was both chilling and inviting to visitors because the spatial boundaries were complex, the defining elements were floating in the air, and it was not easily defined. To describe it, there is an office space in this five-hundred-square-meter area, hybridized by the office and home spaces, with undefined and defined actions taking place in overlapping spaces that are difficult to identify because of confusing fabric curtains, plants, and furniture that refer to the home, and floor graphics that blur boundaries. Finally, there is a space called "Mountain" that looks like a type of super-furniture, a pyramid, an amphitheater, a rugged shape, a chair, a movie theater, and a dance floor. It is all of these or none of them, a place that is constantly transformed with various activities. Our bold proposal for a "working" lifestyle that is capable of changing with the times.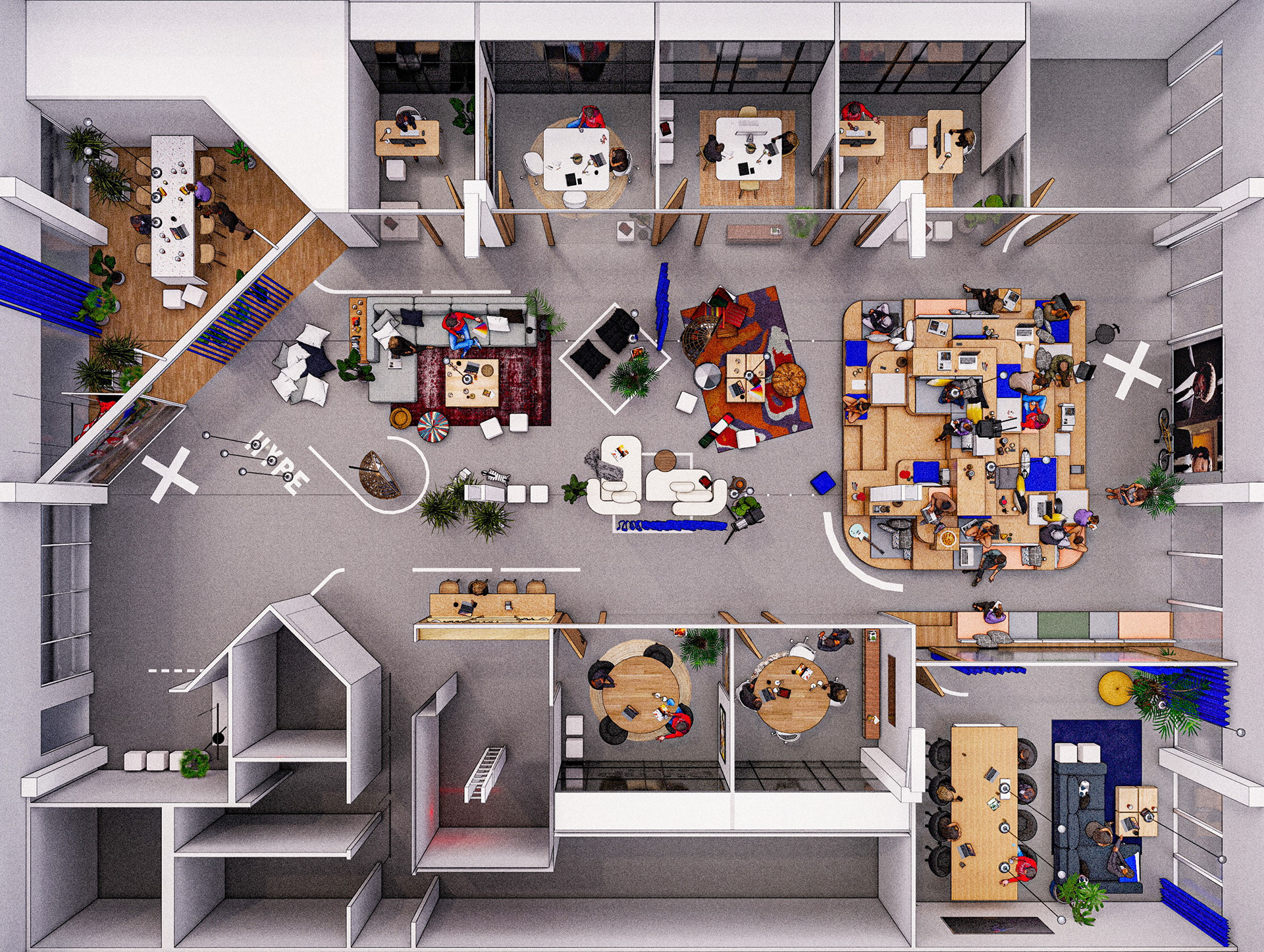 More Information
The text above explains the groundwork for the formation of the idea and the moments that led to the emergence of this idea through an experimental approach. As it was built and started to be used, we had the chance to observe the usage of this space many times, visit it frequently, and follow what our ambitious idea represented in the real world for nearly two years. In the first weeks, we saw that employees returning to the office approached this strange but inviting mass with apprehension. First, they began to sit on its edges slowly. It became a companion to their coffee breaks and conversations. Then someone dared to climb to the top, and those parts were also put to use. One day, they watched a movie together on it, and the next day some people turned up the sound system and danced on it. We saw that it hosted small gossip circles, group conversations, business meetings, galas, parties, education, and even fashion shows, providing a new ground for all these actions, shaped by a strange form with indentations and protrusions that is about thirty square meters in size: the Mountain.
Architectural experiments do not ultimately result in good or bad outcomes. They are tested by whether they produce meaning in the defined space; that is, whether they are the place where potential life can occur or not. The Mountain provided a new ground for all these actions.