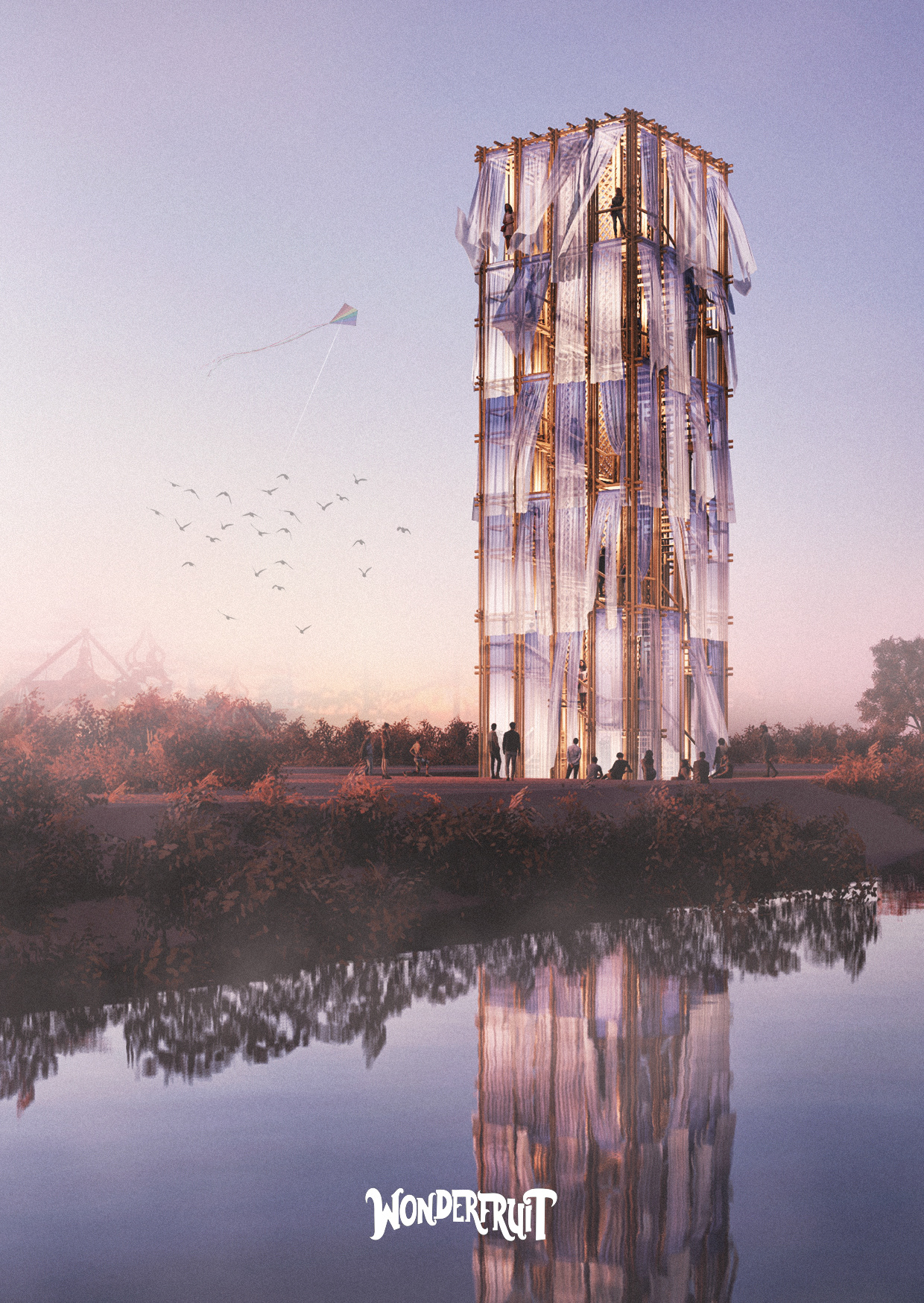 The Maze of Gaze

Architectural Design for Wonderfruit Festival 2019 Exhibition Pavillion
Status:

 Competition Project Proposal, Finalist (of Five)


Team:

 Nur Gayretli, Oğul Öztunç


Structural Consultant:

 Bora Kaçar


Location:

 Chon Buri, Thailand
Client:

 Wonderfruit Festival
Piknik has designed a proposal in collaboration with Nur Gayretli for the Exhibition Pavillion of Wonderfruit Festival 2019 in Thailand in response to an open call exhibition. The proposal has been selected as one of the five finalists.



Approach & Concept




Finding Ways in a Vertical Maze to Experience the Unknown to Gaze the World Under One Roof Dancing in the Wind.





A Tower Gazing the Wonderfruit Fields


The festival area is filled with fantastic structures, open fields, water ponds, mesmerizing natural surroundings and most importantly; a landscape of energy, which is filled with amazing experiences. As a structure that aims to tell the story of this festival, in addition to the exhibition inside, The Maze of Gaze uniquely promises wonderful gazes of Wonderfruit. You will see the tower from far away, on your way to the entrance, by the pond; ready to show you beautiful sunrises, sunsets and everything about Wonderfruit -in many different levels.
A Vertical Maze to Tell the Story of Wonderfruit's Journey


You are at Wonderfruit. You see a solid yet very light, simple tower while approaching to festival fields. You get closer and open the curtain, you are surprised. There is an unexpected world inside. Just like Wonderfruit: you step into the parallel universe, first to lose and then to find yourself. It is less about what is trending but more about experiencing the unknown. Thus this tower invites you in to create a journey for yourself along with the journey of the festival. Binded together, exhibition becomes a maze-like experience where you get lost, wander, sometimes end up at dead ends, sometimes find different ways to reach to same place and relax. Never a predominant route but one's unique path. Past and present time is embedded in one: in the core, you see five years of the festival; but when you turn your head you see the festival at a different level and an angle every time -the festival is the liveliest exhibit itself.
Ingredients


Flexible, Modular, Easy to Build, Easy to Dismantle, Fast, Light, Cheap
What happens after five years / Afterlife of a modular structure


Having been produced from simple modules, after its life comes to an end as The Maze of Gaze, the structure can be easily dismantled into its ingredients that can be combined again in different ways and contexts. Parts can be sent to different parts of Thailand in need, to give birth to new structures and be reused as cultural pavilions to carry on the Wonderfruit spirit.